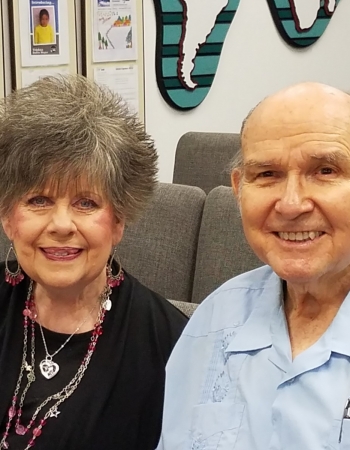 Judy & Hershel Wise – Judy & Hershel are both ordained ministers.  They were ordained by the International Pentecostal Holiness Church of Oklahoma City, Oklahoma, and have served in ministry since 1969.  They served as Associate Pastors and Pastors of churches in Mesquite, Texas.
Judy has served in many church positions: Church Secretary, Director of Home Bible Studies and President of the Ladies Ministries.  Judy has become known as an anointed Bible teacher.  This opened opportunities for her to teach in church services and also to be the keynote speaker at bible retreats in a three state area, Texas, Oklahoma and Arkansas.
Judy served in many positions with Flame Fellowship International: State Prayer Coordinator, Field Representative and as a speaker at Leadership Seminars & Conferences.  She has spoken and ministered many times and has been the keynote speaker for Igniting New Life.  Judy has taught on her website , www.Disciplesmaker.com, and has an international following.  She appeared on The Gospel View with the Armstrong Family Singers.
Currently, Judy is teaching a Thursday Morning Bible Study and a Sunday School Class at Cornerstone Family Church in Richardson, Texas.   Judy brings forth the Word of Spirit and life with a strong prophetic utterance as the Spirit wills.
We are tremendously privileged and blessed to have Judy teaching at Cornerstone.